The life as a climbing photographer is usually very glamorous. Three course dinners. Oysters and champagne. Going to grand opening parties on the red carpet in your Armani shoes…
Well, not really. Most often there's a lot of hard work involved in getting into a good shooting position. Usually a lot more time consuming than most people think. Fixing ropes, rappeling, ascending ropes. I thought about this after my last weekend in Norway shooting on Vettisfossen. It might be interesting to share some nerdy statistics of what a typical climbing-photography weekend costs in terms of sweat, lactic acid, and adrenalin.
This is my slimmed gear I brought on the trip. Doesn't seem to be too much ehh? In spite of all, it's winter time.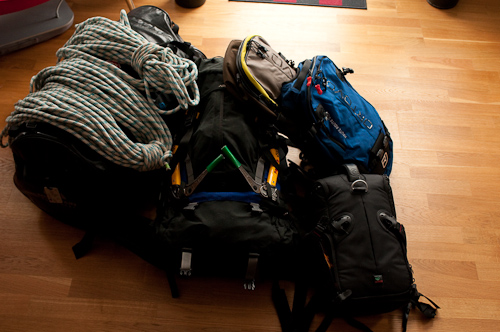 Twelwe hours in the car in hard weather takes a toll on you, especially when the alarm goes off at 4 AM. Since the pillar on Vettisfossen isn't wide enough for two rope teams, we just had to be first. Not many people climb this route at all, but we didn't want to take any chances. A quick breakfast on the stove, and then off to hit the approach up to Vettis.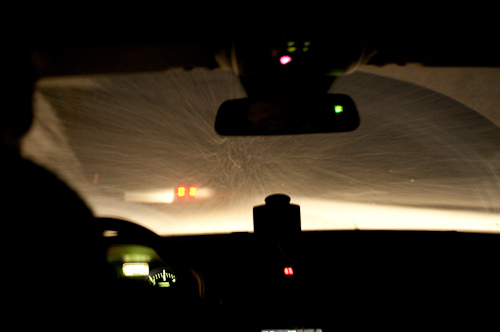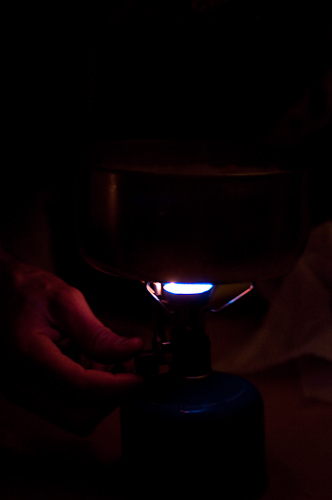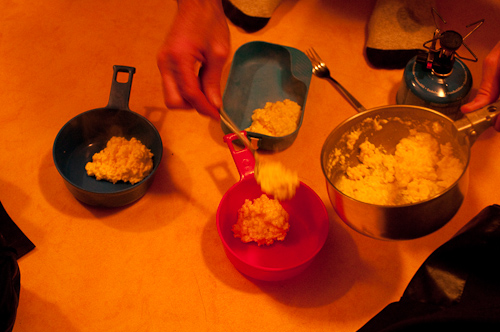 And now to the really nerdy stuff. Below is a photo of all the gear I carried up to Vettisfossen, which is almost every piece of gear I packed in the car. But remember, this was for one single day of climbing.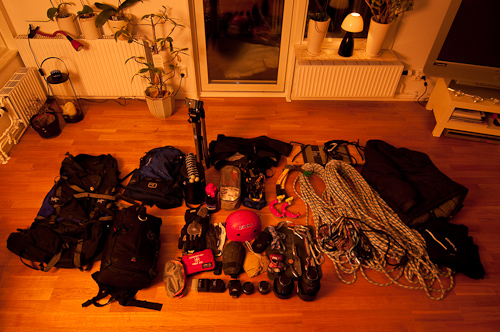 A detailed list of all the gear:
*Camera incl small lenses and camera bag: 5,5 kg
*Tele zoom lens: 2,4 kg
Tripod: 1,7 kg
*Photo chair: 1,2 kg
*Gorilla tripod: 0,25 kg
*Harness: 0,5 kg
*Jumar and carabiners: 1,5 kg
*Crampons: 1 kg
Ice axes: 1,1 kg
*Grigri: 0,3 kg
*Quickdraws: 0,5 kg
*Slings: 0,1 kg
*Static Rope ca 110m: 6 kg
*Backpack: 3,3 kg
*Down jacket: 1 kg
Down pants: 0,8 kg
Thermos: 0,6 kg
*Extra long sleave function sweater: 0,25 kg
*Water: 1 kg
*Gloves: 0,3 kg
*Helmet: 0,4 kg
Small backpack: 1,5 kg
Sandwiches: 0,3 kg
*Walki talkies: 0,2 kg
*Phone: 0,2 kg
*Goretex jacket: 0,8 kg
*Headlamps: 0,12 kg
*Hand heaters: 0,08 kg
*Knive: 0,08 kg
*First aid kit: 0,2 kg
*Extra gloves: 0,06 kg
*Kneepads: 0,05 kg
Total weight: 33,3 kg (* = 27,3 kg)
I carried all this on the two hour approach to the base of the climb. Items marked with * is what I carried from the base of the canyon to the top of the fjell, which was a very hard walk of about 300 vertical meters in kneedeep powder. Since I was in a hurry to get up to the top of the ice fall in good time to rig my static rope, this turned out to be one of the most physically hardest things I have ever done.
Was it worth it? Yes, it definetely was. While sweating, swearing and getting pumped with lactic acid I had a great time, and enjoyed every second of it!!!
Over & out.